Improving your rental property can help you attract well-qualified tenants quickly, which limits the amount of money you lose on vacancy. It can also help you increase the value of your investment, meaning you can possibly charge more in rent. 
But, where do you invest your renovation funds? 
It's important to make cost-effective upgrades that will have an immediate impact on your rental value. 
These are the five that give you the best chances of earning more on your Santa Cruz rental property. 
1. Invest in Hard Surface Flooring in Santa Cruz Rentals
New floors are a large investment but the payback is pretty impressive. In fact, new flooring for a rental property can make the entire home look new. If you have old and dingy carpet then get rid of it and get laminate hardwood flooring or just regular hardwood flooring. 
Hard surface flooring makes rooms look larger and cleaner. Tenants will appreciate it because it's more attractive and easier to clean and maintain. If you cannot afford new flooring and you happen to have old wood floors, then think about restoring those floors. 
2. Put in Better Plumbing Fixtures
Kitchen and bath fixtures like faucets and sinks and sprayers get dated quickly. As a general rule of thumb, if those are 10 years or older, you should replace them anyway. They can rust and leak and just look impossible to clean. 
Update the fixtures with oil rubbed bronze or brushed nickel pieces. This will give your rental space a nice and refreshed look. They'll also get the attention of potential tenants. 
3. Energy-Efficient Appliances
Stainless appliances in a kitchen will absolutely increase what you're able to earn in rent. However, you don't have to invest in stainless steel. As long as the fridge, stove, oven, and dishwasher all match and are energy efficient, putting in new appliances will increase your rental value. If your appliances are older and deteriorating or you find yourself called to repair them frequently, it's time for something new and updated.
4. Look at Your Lighting 
Good lighting does not cost a lot, and it can have a dramatic impact on how your property looks and feels. Start with the interior lighting – make sure it's abundant. Install good lights in the bathrooms, over vanities, and especially in the kitchen. 
Outside, make sure there's enough lighting to make your tenants feel safe. Parking areas should be well-lit, and you might want to consider motion lights on the outside of your home or building. 
5. In-Unit Laundry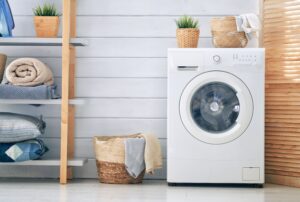 Santa Cruz rental properties that come with a dedicated washer and dryer will always rent more than similar properties without these amenities. A laundry room is great in a multi-family building, but in-unit laundry is much better for your rental value. If you're leasing a single-family home, laundry facilities are also important. Tenants are looking for this, and they'll pay higher rents for it.
There are always things you can do to increase what you earn. If you'd like a personalized assessment, we'd be happy to provide it. Contact us at Real Estate Eight Three One for this and all of your Santa Cruz property management needs.